Road will be damaged or deformed in varying degrees after a period of time, but if not handled in time, it will cause serious consequences. In recent rainy season, pavement immersion in water will reduce the bearing capacity of the pavement, and over time, will cause a large area of broken pavement.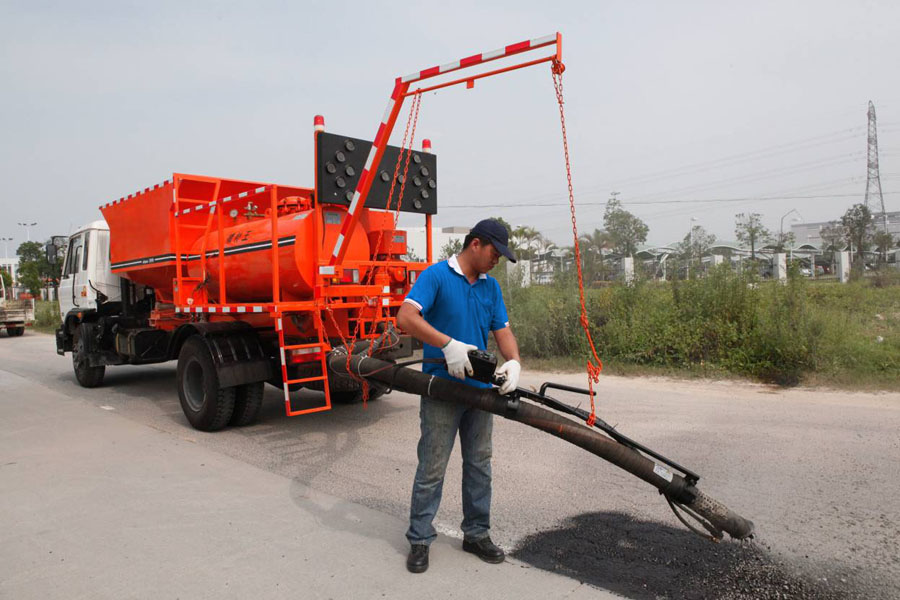 Pavement breakage and fragmentation should be dealt with in time. I believe everyone understands the principle of repairing the broken sheep. Then how can we maintain the road?
Pavement asphalt grouting machine is mainly used for cracked asphalt treatment of asphalt pavement, but also for cement pavement. Pavement asphalt filling machine adopts automatic heating control system, which has strong continuity of filling operation. It can not only greatly reduce the discharge of pollutants, but also effectively improve the efficiency of irrigation joints. In addition, the pavement asphalt grouting machine also adopts advanced intelligent control system, which makes the operation and use flexible, the flow output accurate, guarantees the smooth and beautiful pouring, and plays an important role in highway maintenance.
The sewing machine is mainly operated by hand-pushed and self-propelled hand-held sewing pipes. The imported diesel burner is used for heating. When working, first add asphalt or seam filling glue into the tank, start the generator power supply, turn on the heat conduction oil pump switch, burner switch and discharge tube heating switch in turn; the temperature of the automatic temperature control system is the same as that of the material, and the heat conducting oil in the hot melting tank is heated by the diesel burner (resistance forced circulation) to melt the material. Temperature is controlled by automatic control system. Melting time is about 30-40 minutes. When the material dissolves, the discharge tube can work when the temperature reaches a certain temperature. Hand-held pouring pipe was used to treat cracks. The flow rate of asphalt pump can be adjusted. Adding materials to ensure continuity of work.
As a common pavement maintenance equipment, pavement asphalt grouting machine also has its own fixed "soul mate". It cooperates with pavement grooving machine and road blower to complete the work. The construction sequence is to slot the pavement first, then clean the pavement with a blower, and finally repair the pavement with a slotting machine. Pavement asphalt filling machine specializes in the treatment of road cracks, which is a fragrant baboon in pavement maintenance equipment.