Asphalt Mixture Heating Insulation Box-GXMER-BY1500

Product scope of application:
GXMER-BY1500 Asphalt mixture heating incubator is a professional pit repairing equipment for asphalt pavement. The equipment is mainly used for heat preservation and transportation of fresh mix hot material in mixing station, heating and insulation of finished asphalt mixture cold material (without relying on asphalt mixing station), providing sufficient hot asphalt mixture in time for pit pavement pit repairing to ensure long pit. In order to ensure the quality of repairing, the mixture is always in constant temperature during long-distance repairing operation.

Product working principle: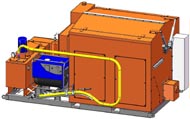 Warehouse Heating and Insulation Principle (Heat Conducting Oil Heating and Insulation)

The heating and heat preservation of equipment silo uses diesel burner to generate hot air or electric heater to heat conductive oil. The heat is evenly transmitted to the asphalt mixture inside the silo through the heat conductive oil, which ensures the uniformity of heating temperature. At the same time, the equipment is equipped with heat conductive oil and asphalt mixture temperature monitoring device. The heating temperature can be set according to the need to avoid burning and aging of the mixture.
Product performance advantages: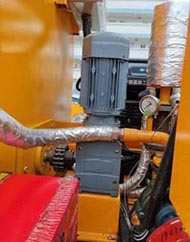 ●Combination of heating and heat preservation
The heating mode is heat conducting oil heating, and the heat source is burner and electric heater. It can be heated by electricity in the city to save the cost of use. The equipment can really realize the functions of product cold material heating and thermal asphalt mixture insulation, which is simple, convenient, energy-saving and environmental protection.
●Better insulation effect
It has three layers of heating and thermal insulation structure, with heat conducting oil layer inside, hot air layer in the middle and thermal insulation layer outside. It can minimize the temperature loss of the mixture, and the holding time is as long as 3-4 hours.
●Control of heating temperature
Through indirect heating of heat conducting oil, temperature control system accurately controls temperature, equipped with heat conducting oil pump, heating uniformity and high efficiency, can effectively prevent the aging of mixture during heating process.
●Asphalt box
Equipped with 100L asphalt box, it has the function of heating and heat preservation, and can realize spraying of hot asphalt and emulsified asphalt; built-in pump, maintenance-free, pipeline cleaning-free.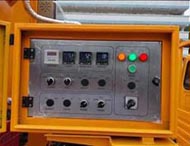 ●Convenient and fast discharge
Electric screw discharging is adopted in the equipment, which makes the discharging faster and avoids excessive temperature drop due to too slow discharging. At the same time, it can also reduce the labor intensity of workers.
●Facilitate opening and closing of material door
The opening and closing of the material door of the equipment is driven by an electric push rod, which is controlled on the control panel, and the operation is convenient and fast.
●Intelligent heating system
The equipment has the function of appointment heating, which can automatically start heating in advance according to the actual needs, so as to ensure that the construction personnel can arrange the time reasonably.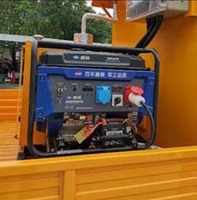 ●Separate structure design
The equipment adopts split design. It can be loaded and unloaded by hoisting device or forklift truck. The loading and unloading process is convenient and fast. F. JPG equipment can be stored independently when it is idle. Transport vehicles can be used for other purposes. At the same time, the equipment has a small volume and a length of about 3 meters. Common trucks can be used for equipment transportation.
●More flexible use of equipment
The equipment is equipped with 380V/6.5kW Jialing Generator Unit, which provides power supply for the construction site and 220/380V power supply for the lighting lamp, so as to achieve a multi-purpose machine. When the equipment is fixed in the backyard or the material yard, it can be transferred to the site power supply to save the cost of use.
●Material selection of the whole machine is high quality material
The generator set is Jialing Honda 6.5 kilowatt silent generator set, burner is Riyal Road, Italy, temperature control system is Omron, electric push rod is imported brand electric push rod, etc.
Product performance parameters:
Whole machine parameters

Product Model

GXMER-BY1500 Asphalt Mixture Heating Insulation Box

Outward Size

3100×1700×1760(mm)(length * width * height)

Weight

2000kg

Hopper capacity

1.5m³

Charge height

1.9m

Loading opening width

1.2m

Loading outlet length

1.5m

Generator Set

6.5kW Honda Gasoline Generator Unit

Gasoline tank volume

25L

Heating mode

Diesel Burner/Electric Heater→Heat Conducting Oil→Asphalt Mixture

Volume of heat conducting oil

200L

Thermal insulation layer

50mm Aluminum silicate insulating cotton interlayer

Burner

Riyal Road (Italy) Diesel Burner

Heating power

380V 20kW

Heat conducting oil pump

RY32-32-160 Flow6m³/h

Asphalt box

Capacity 100L

Volume of Burner Diesel Tank

80L

Control panel

Integrated Operational Control

Temperature control

Omron Temperature Controller in Japan

Discharge mode

Reduction Motor→Bottom Spiral→Rod Tail Discharge

Bunker door control

Electric Push Rod Control Opening and Closing

Discharge speed

5 minutes/1.5 cubic metres

Heating speed

It takes about 3 hours for the finished product to be heated from 25 ℃ to 140℃

Thermal insulation data

At room temperature, the temperature drop is 140 ℃→120 ℃which takes 3.5 - 4 hours.
Product picture: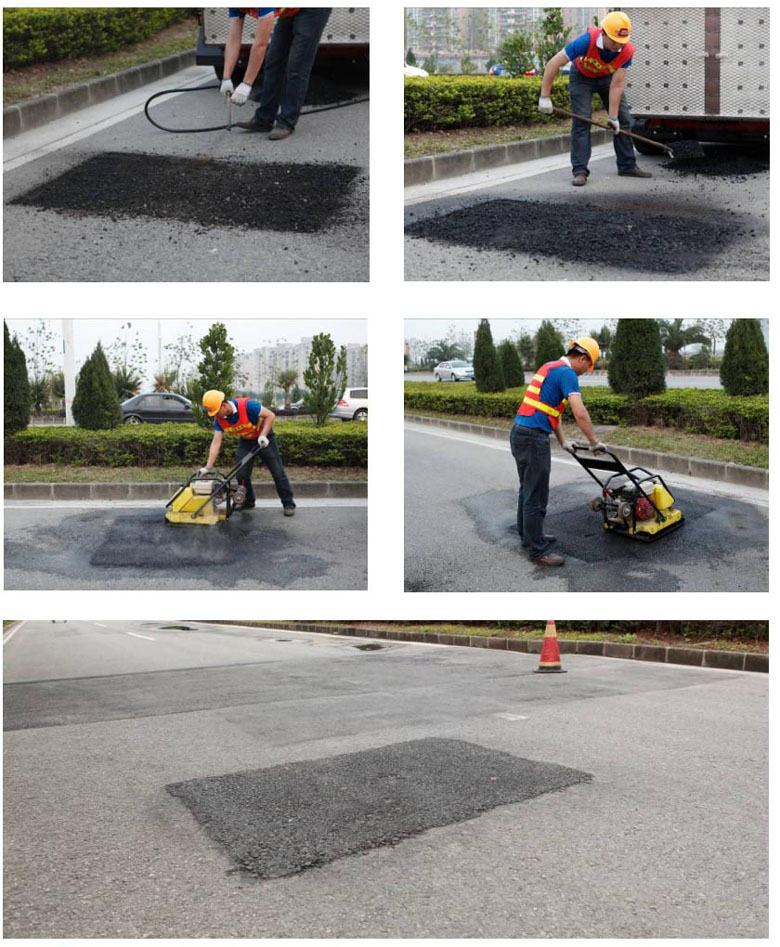 You choose not only reliable products,There are also high-quality services!